I was honored to be asked by the Adler Planetarium to etch the zodiac symbols for their edge lit display on the 14th floor of the Neonatal Intensive Care Unit of the Lurie Childrens Hospital in Chicago. My glass was part of a display which had interactive buttons which lit up the star constellations behind each zodiac figure I etched.
The glass panel was about 7 foot tall by about 10 foot wide. We masked the entire sheet and hand cut the images from the vinyl "resist" then etched and artistically shaded each character. This picture shows the beginning of the slow progress.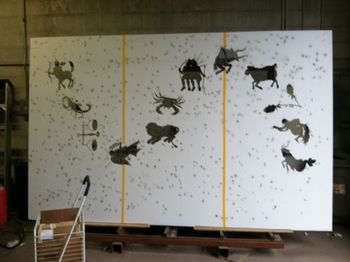 This is the entire panel with all the stars and characters etched before we removed the vinyl resist.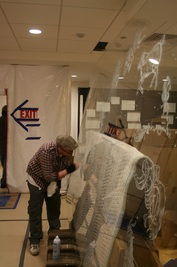 We have the glass at the location and my son Sean is cleaning and inspecting the design before we install it in the channel that was made for the unit. In the background, electricians are working on installing the lights that will activate the display.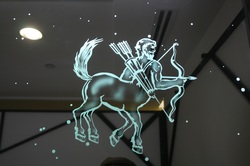 Glass is installed and the glow from the lights edge lighting are seen on Sagittarius.




Below is the final finished display!